Admit it, this is really the main post you wanted to see about Okayama! Of course we filmed our indulgence, so check out the videos.
WARNING: do not read this before dinner (or doing groceries), you may not be able to control the impulse to indulge in #nom.
Parfaits (ice cream y'all)
Okayama is famous for producing their parfaits so fork out that ¥¥¥ and dig in!
We had a black sesame & soybean flour with mochi, chocolate cake, anko, whip cream and pudding parfait (and an extra 10 pds!) at Korakuen garden, but we also had a decadent budo grape parfait in Kurashiki at Momoko.
There were 3 kinds of grapes and they ALL tasted different. The green one was fresh and citrusy, the red one was… well, like a grape, and the purple one tasted like red wine. Yes, yes, red wine!
Here's more recommendations for your taste buds:
HOTEL GRANVIA OKAYAMA Café Restaurant Olivier
Kibi dango
Okayama is, after all, the city of Momotaro, legendary peach boy! As the story goes, his adoptive mother gave him kibi dango to take on his journey, he shared it with his friends (dog, monkey and bird), and together they defeated monsters!
Let me tell you, the dango here do NOT disappoint! They are light and fluffy, not dense, and are so fresh they only "keep" for 20 days. The peach dango actually tastes like REAL peach and there's a harder to find, but totally worth it, chocolate & sea salt kibi dango.
So how can you get your hands on either or both of these delicious treats? The easiest is at Okayama station, right in front of the Central Exit.
Koeido has multiple flavours ranging from white peach to brown sugar and soybean flour; you can easily spot their colourful boxes covered in onni (monster) faces. Walk straight out of the Central Exit to the shops in front of you, the first one on your right should be Koeido. * There's also a Koeido in Kurashiki.
As for the shio choco kibi dango (chocolate & sea salt), you can also find them at Okayama Station just off the Central Exit. I think… they where in the store on the right of the Central Exit? If not, just circle the omiyage shops until you spot them.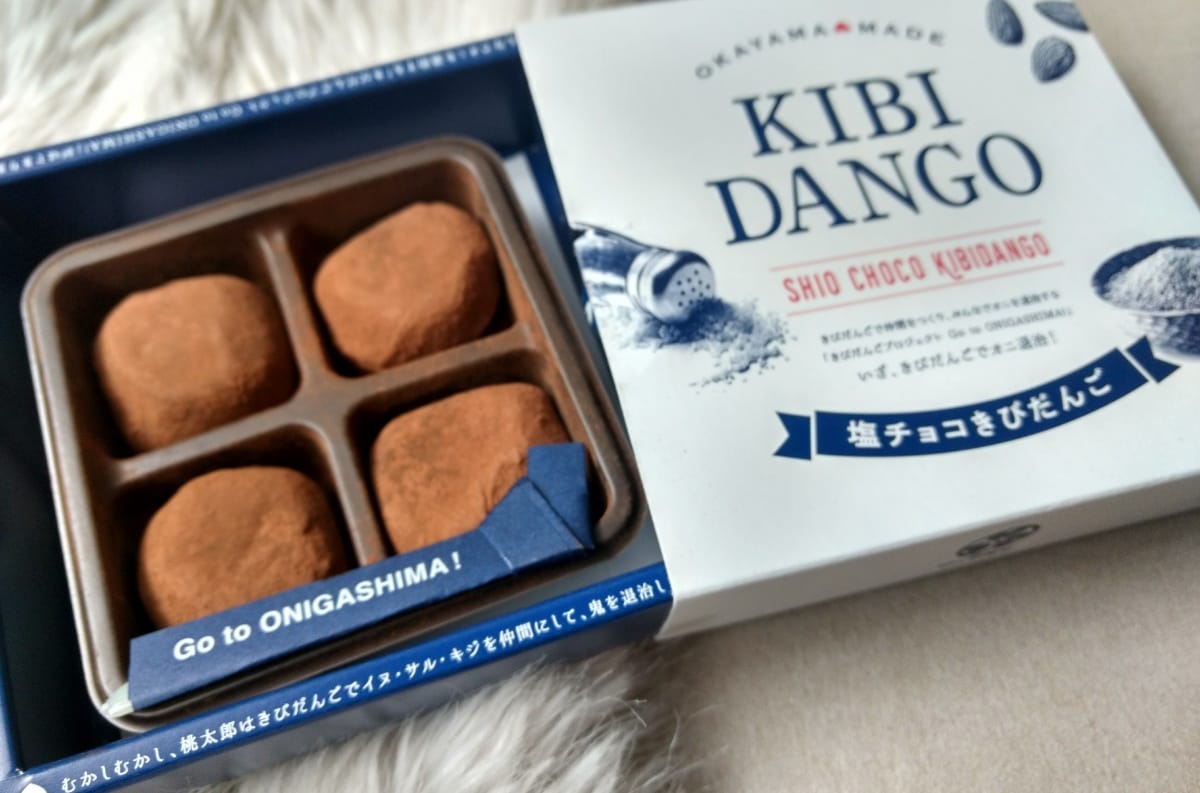 Oyster okonomiyaki
Along with fresh fruits, oysters are another BIG food feature of Okayama so YOU BET we were gonna lay our hands on some oyster okonomiyaki! Kamon okonomiyaki is close to the train station, so once you found your kibi dango, you can reward yourself by stuffing your face nearby.
We got 8 giant oysters and nothing else (save the basics that come with) because we wanted to taste them pure. They were juicy and fresh, really delicious. But if I'm totally honest… I most fondly remember the grilled mochi and cheese okonomiyaki. This is my new favourite combo! The grilled mochi has a satisfying chewy, soft texture, and coupled with the cheese #perfection.
Mochi okonomiyaki
Chocolate & fruit jelly
My life is now richer, for having eaten too much chocolate and for having discovered that Rokumeikan exists. Everything looked so good from the outside and this was day 1 of vacation adrenaline rush, so naturally we just had to buy their chocolates… and jelly… and cookies #foodie. The chocolates have very interesting flavour pairings (shout-out to the champagne!) and the jelly is like the most perfect gummy bear. I recommend both for self-indulgence and as a gift.
Image curtesy of Rokumeikan
Izakaya
Being the intrepid walkers that we are, and fearless adventurers, we ventured out into the unknown for an izakaya! Right in front of our Air BnB to be exact, at Nojika .
Can't remember what sake we drank, but it was a tall glass and it was GOOD. They had Yuzu wine, but tragedies of tragedies they were OUT… so they kindly made us a yuzu sour on the house! * Apparently that wine was from Hiroshima.
The standout dishes were an octopus salad entre, assorted sashimi and ochazuke. And I won't snub my nose at the fried chicken, daikon soup and chicken stock onigiri freebies we got! Besides the food, the chefs behind the counter were very friendly and it made the experience that much more enjoyable.
Royal milk tea pudding
Fruit liqueur etc.
Okayama is fruit heaven and white peach as well as budo grape are the shining stars. You can find sake, wine, liqueur and beer featuring their flavours. I enjoyed both the peach sake and liqueur and would recommend them as a gift. You can find them in any omiyage store, grocery store or specialty sake store.
Starbucks
… let me just hang my head in deep, deep, DEEP shame. I am NOT a Starbucks afficionado, I only go back home if it's on a roadtrip of some kind with friends or as a meetup point, and I NEVER get the flavoured/seasonal coffees. But FOR SOME REASON, in Japan… they're very enticing! I live in the deep inaka remember?
We were in Okayama right before the Christmas season so the Gingerbread latte, Pistachio candy latte, and Rasberry mocha were the featured items. Yes I tasted them all, yes they're surprisingly delicious! Not sickeningly sweet, not syrupy, not articifial in taste (although they clearly are). It's a good thing we indulged here because the week after, both the Pistachio and Rasberry mocha were mysteriously out of circulation. Thankfully the Gingerbread latte lingered on until mid-December.